You would like to implement eco-responsible practices within your company by going digital? Discover 5 concrete actions you can take today to reduce your GHG emissions as well as several benefits for your organization.
The impact of eCommerce on the environment
The exponential growth of online purchases has pushed many companies to modernize their processes and go digital. Consumers, who are more and more demanding in terms of speed of delivery and quality, have disrupted the way organizations do business and forced them to adapt to their new expectations.
While the optimization of shipping services through technology has allowed companies to do more with less, new issues have emerged. The popularity of eCommerce has had a significant impact on the environment by encouraging over-consumption and dramatically increasing the number of deliveries.
In fact, a study published by eMarketer indicates that online shopping in Canada is growing significantly with a record 75% increase in sales by 2020 due in part to the global health crisis. This upward trend in online shopping will continue to climb with a forecasted increase of at least 10% annually until 2024.
On the other hand, the growing popularity of online shopping, which was already present even before the pandemic, has undeniably contributed to environmental degradation. According to the Government of Canada, between 1990 and 2020, GHG emissions from the transportation sector increased by 54% in Canada. More specifically, freight transportation increased by 130% during those two decades.
These data allow us to draw 2 conclusions:
Going digital to sell products online is more than ever a necessity for manufacturers and companies that distribute goods to stay ahead of their market. 
Organizations must adopt new sustainable strategies to reduce their GHG emissions to ensure a good quality of life for current and future generations.
Now that we have outlined why it is important for every business leader to review their practices, let's look at how it is possible to adopt eCommerce strategies that take into consideration the 3 pillars of sustainable development through a set of actions.
The 3 pillars of sustainable development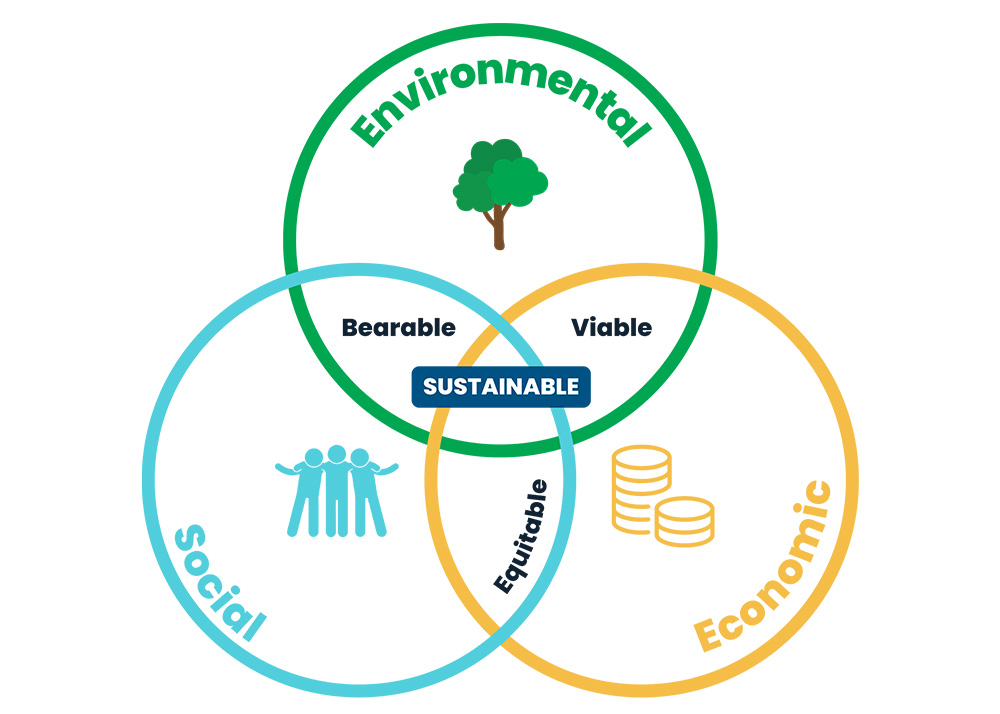 Concrete actions to become a sustainable company
1- Opt for more ecological delivery alternatives
Responsible for 24% of GHG emissions in 2020, the transportation sector is one of the main causes of climate change. It is therefore the social responsibility of companies (CSR) to adopt practices that reduce these emissions.
Eco-responsible delivery is a growing niche in order to offer a service with the lowest possible carbon footprint. Several green carrier solutions are being developed, mainly in urban centers. Opting for an integrated delivery solution for your e-commerce business not only allows you to compare the prices of different carriers, but also to choose among ecological and fast options such as local delivery by bicycle or electric vehicle.
2- Rely on ecological packaging
Another effective way to have a positive impact on the environment while reducing and optimizing the use of material resources is to innovate in terms of packaging. From reusable or recyclable packaging to plant-based packaging, the possibilities are numerous and can be adapted to many products.
It is also a way to distinguish oneself from competitors and to adapt to new consumer demands. In fact, according to the "Global Buying Green Report" based on a survey of more than 15,000 consumers in Europe, North America and South America, 67% of consumers believe that it's important that the products they buy come in recyclable packaging. This concern for the environment is particularly prevalent among adults under the age of 44. 83% of people in this age group would be willing to pay more for an environmentally friendly packaged item.
3- Rethink each of your products
The circular economy, a systemic vision adopted by more and more Quebec companies to meet the demand for products with a positive impact on the environment, goes far beyond the linear economy we know. Instead of only extracting, producing, consuming and finally throwing away, each step of a product's life cycle is rethought in order to optimize resource management and reduce environmental impact. Many revolutionary companies are based on this economic model in order to create, for example, products from food waste or decommissioned fruits and vegetables.
4- Choose suppliers who have adopted green practices
Surrounding yourself and doing business with other companies that share similar values to your own organization is more than essential in order to demonstrate to your stakeholders and clients that the environmental measures adopted are not just a facade. From the suppliers of your raw materials to the technological solution for your e-commerce, each of them must be chosen not only for the quality of their products or services, but also for their transparency in their practices.
At dvore, sustainability is one of our priorities. Our desire to reduce our GHG emissions has led us to adopt eco-responsible practices such as teleworking and the implementation of a zero paper policy by digitizing all our processes. We have also started the process to obtain our BCORP certification.
Visit our about us page to discover all our eco-responsible practices!
5- Automate your processes
Automating certain tasks to allow employees to work on value-added tasks that are stimulating and fulfilling is one of the key elements to develop a pleasant work environment and attract new employees. It is also a way to reduce labor needs and ensure a more secure economic future for your company. Don't forget that the social and economic pillars are an integral part of sustainable development! Optimizing your processes and giving your employees the opportunity to develop to their full potential are essential aspects of a sustainable future.
Moreover, automating your processes by going digital is the best way to consolidate all your data on a secure platform, to simplify your accounting processes, but also to reduce the amount of paper used in your offices!
What are the benefits of a sustainable eCommerce strategy?
Focusing on sustainable practices is not only beneficial for society and the environment around us, but also for your organization. If sustainability for you is synonymous with a financial drain, loss of revenue or loss of customers due to a significant increase in prices, it's time to change that vision! Here is a brief list of the many direct benefits that implementing new, more environmentally friendly practices could bring to your company:
Attract and retain staff
Develop new markets
Reduce your energy consumption and operating costs
More efficient use of resources
Maximize your productivity
Stay ahead of future regulations and develop better risk management
Innovate and differentiate yourself from the competition
Enjoy a better reputation and build customer loyalty